The
Paphiopedilum bullenianum
Complex
If you look for relevant information on Paphiopedilum bullenianum from the Spathopetalum group in the specialist books of various authors, it quickly becomes clear how difficult it is to differentiate between the individual species - especially when you consider the different plants from the Paphiopedilum appletonianum complex . The image below shows these difficulties.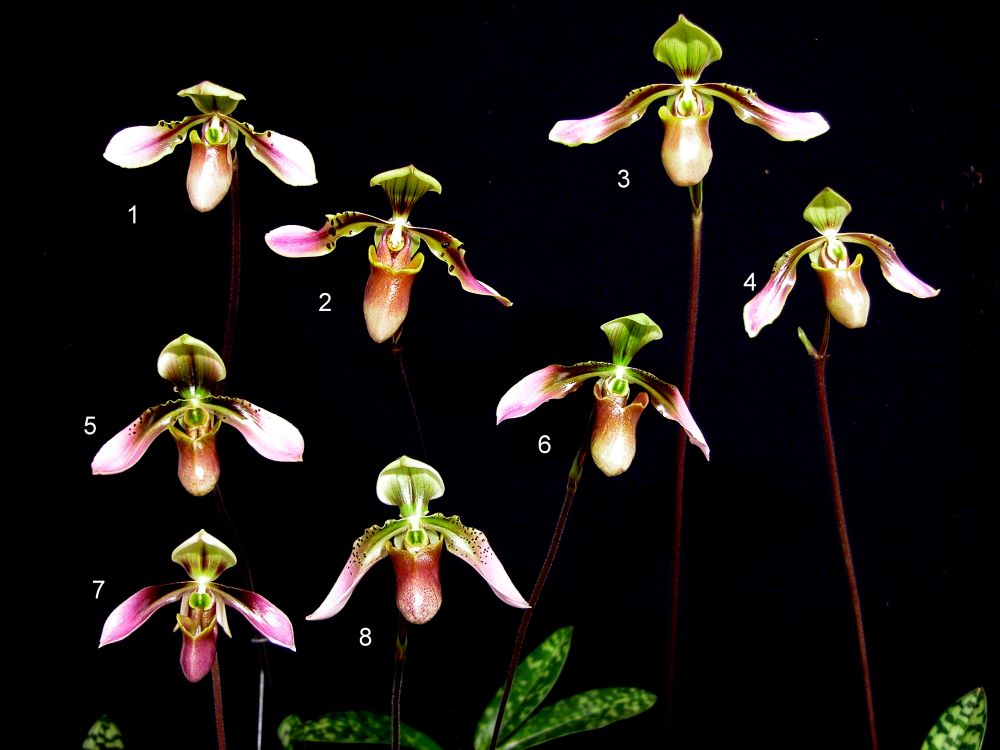 1 = Paph. celebesense; 2 = Paph. bullenianum; 3+4 = Paph. linii; 5 = Paph. hainanense; 6 = Paph. wolterianum; 7 = Paph. hainanense (habe ich als Paph. celebesense gekauft) 8 - Paph. appletonianum
I was lucky enough to meet Nebjoscha (Boscha) Popow 35 years ago. For me, he was one of those people who knew where to find almost all Paphiopedilum species in nature. Over the years I have seen and photographed many species from this complex on numerous visits to his greenhouses. Unfortunately, these species are/were difficult to cultivate - Boscha therefore repotted these plants every six months. Unfortunately Boscha passed away in September 2021.
Also because of his experiences and as a reminder of him, I will name all "species" from the group Paphiopedilum bullenianum with the name with which they were once validly described.
Another very good source for identifying each species of Paphiopedilum is the Orchid Digest magazine. In particular dr Fowlie has written many articles on the locations of these plants over the past century.
If you look on the Internet and look for pictures of individual plants from the Paphiopedilum bullenianum complex, it is noticeable that many pictures are incorrectly labeled.
With this article I would like to try to bring some clarity to this complex. Far be it from me to question the competence of individual taxonomists on this subject. But I think it's important to clearly distinguish between the individual species, varieties and local site variants - and only a clear name helps for that.
This name is very important for offspring of the individual plants - we haven't gotten any plants like this from nature for a long time. It would be fatal if we crossed these individual "species" with one another.
In the last century, some of the species described here have been offered sporadically. I have a price list from Simanis Orchids, Java (Indonesia) from 1982 in which Paph. amabile, bullenianum, bundtii, celebesense, linii, johorense and tortipetalum were offered. The company Florikultura from Holland also offered some of these species in 1982.
Below I describe all "types" with pictures of the flower, the Staminodium and the leaves of the respective plants.
Paphiopedilum bullenianum
(RCHB. f.) PFITZER
Paphiopedilum bullenianum was collected from the island of Borneo by Hugh LOW and described by H.G. REICHENBACH in 1865 in honor of an English horticulturist, BULLEN, as the type plant of this species. An altitude of 700-950 m in leaf litter on steep, wet and moss-covered rocks in Sabah (Malaysia) was given as the location.
According to Boscha Popow, these plants have only recently been found in Sarawak (Malaysia) and neighboring Kalimantan. The "real" Paph. bullenianum always have a purple underside. Around the turn of the millennium, Paph. bullenianum was found with purple leaf underside from Sulawesii. An exact location could not be clarified - a sales-promoting measure for this species would therefore also be conceivable.
Paphiopedilum amabile
HALLIER
Paphiopedilum amabile was found in 1893 by HALLIER in the Klamm mountains near the town of Sintang (West Borneo) at an altitude of 700-900 m. Little can be found in the literature about this lady's slipper. Here is an interesting link about informations to this plant (only in German language):
http://archive.org/stream/berpaphiopedilu00hallgoog#page/n7/mode/2up  
In the journal Orchid Digest (Issue 1 1978) there is a short description of this species and the company R.J. RANDS Orchids plants available for purchase. These plants were introduced with an import of Paphiopedilum hookerae from West Borneo, and were discovered only when flowering at R.J.RANDS' nursery.
Here in Germany, only a few plants were offered during this time. I had pollinated two of these plants at the time - the sowing was done by my orchid friend Burghard GRALHER. At that time, however, there was little experience of cultivating lady's slippers and only a few seedlings have survived. I doubt whether there are still plants alive today.
Sam TSUI currently offers Paph. amabile in the US. Unfortunately he doesn't have any pictures of the flower. The flower shown above bloomed in Axel Klusen's culture - the pictures shown are from him. It is an offspring of Sam TSUI.
Paphiopedilum bundtii
Paphiopedilum bundtii has never been validly described. This is probably more of a trade name. This plant was apparently named after the Dutchman C.H.BUNDT, who runs a small orchid garden as an electrical engineer in Ujung Padang (Sulawesii). During his travels on Sulawesii he is always looking for orchids. The Paph. bundtii is said to grow between the towns of Tanah Rata and Poso. The site should be very steep - the wet conditions allow algae and moss to grow well.
The location of Paph. bundtii is far removed from the sites where Paphiopedilum celebesense has been found. Comparing both plants it is noticeable that the leaves from Paph. bundtii are only about half the size of the leaves of Paph. celebesense—the flower of the Paph. bundtii is again somewhat larger than that of Paph. celebesense.
The underside of Paph. bundtii is slightly purple in color and resembles that of the Paph. bullenianum type plant - but the staminode is very different.
Paph. bundtii has only occasionally been offered with a few specimens in Germany. Hilmar Bauch has successfully propagated these plants over several plant generations. It is ultimately thanks to him that we can still buy or cultivate plants from it today.
Paphiopedilum celebesense
 FOWLIE & BIRK
The story of the discovery of Paphiopedilum celebesense can be found in Issue 1 1980 of the Orchid Digest. An acquaintance of Mr. BUNDT had found these plants east of Rantepao (Central Sulawesi). A small tour group led by Lance BIRK set out to find these plants.
The plants grow at an altitude of about 1000 meters together with Selaginella and smaller ferns. The night temperature rarely falls below 17 °C - the daytime temperatures are max. 25 °C with high humidity.
Paphiopedilum johorense FOWLIE & YAP
Paphiopedilum johorense occurs in the southern part of mainland Malaysia and on the island of Tioman.
I have never seen this species in culture - plants from it are said to have been cultivated many years ago in the Botanical Gardens in Singapore (cf. Orchid Digest Issue 5 1973).
In the 1980s, Paul Mattes found plants on the island of Tioman (west coast of Malaysia) that belonged to the Paph. johorense looked very similar. The discovery of these plants is described in Orchid Digest No. 6 1985.
Since I wanted to visit the island of Tioman in 1980, Paul MATTHES sent me the two images shown above for a possible search of the plant. Unfortunately, our visit fell into the Ramadan period - that's probably why I didn't find anyone who wanted to climb the mountain with me and look for these plants. This is how visiting the island of Tioman is remembered as one of the ten most beautiful islands in the world.
Paphiopedilum linii SCHOSER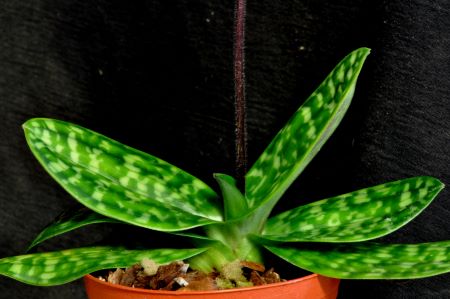 Paphiopedilum linii was described by Gustav SCHOSER in the magazine "Die Orchidee" in 1966. The plants were found about 10 km from the city of Kuching (Sarawak, Malaysia, Borneo) on mangrove roots in leaf humus. The plants were regularly wetted by the spray of seawater, similar to what is done by Paph. niveum from the Langkawii Islands (Malayia).
In the early 80's these mangroves were cleared and the site of these plants destroyed because a hotel was to be built on the site. Today these mangrove forests are part of the Bako National Park.
However, Paphiopedilum linii is said to still occur on a few of the offshore islands in Bako Park (cf. Orchid Digest Issue 4 1986).
There are other Paph. linii locations have been found at the Kapuas River in Kalimantan (Indonesia, Borneo). These plants have been described in the Orchid Digest (issue 6 1986) as Paphiopedilum linii var. kalimantanensis.
Paphiopedilum tortipetalum FOWLIE
After J.A. FOWLIE had heard of a new species of Paphiopedilum from the Spathopetalum group on the island of Sumatra, he organized a trip to Sumatra in 1974 to find the new species.
The plant was actually found by him in the Barisan Mountains, east of the town of Payakumbuh, at elevations of 900 meters on sandstone cliffs near rivers.
Although the species to the Paph. johorense, it was created in 1975 as Paph. tortipetalum described after plants of it flowered at the Los Angeles Botanical Gardens.
Plants of it were imported sporadically in the 1990s. Today, this species is rarely offered from offspring.
Paphiopedilum ceramensis und amboinensis
Paphiopedilum ceramensis I have never seen ceramensis live in bloom, although the orchid forums have repeatedly written about the plants.
In the book "The Manual Grower for Paphiopedilum" by Lance A. BIRK, Paph. ceramensis with the note (see photo above) that these plants are said to be from the island of Ceram.
Also on the island of Ambon there are said to be plants from the Spathopetalum group - Paph. amboinensis.
Both species have never been validly described.
Around the turn of the millennium I received the following pictures from an orchid dealer from the Malaysian part of the island of Borneo, showing two Paphiopedilums from the Spathopetalum group, which are said to have been collected in Sabah (Malaysia, Borneo). Unfortunately I lost contact with this orchid dealer and I do not know of any other photos of these plants.
If anyone could provide more details or pictures from this plants from Sabah to me, I would be grateful. Please contact me.
More pictures to the different species you can find here:
https://paphs.de/index.php/en/species