Paph. gratrixianum vs Paph. christensonianum
In 1903 and 1904, the German orchid collector Wilhelm MICHOLITZ was traveling in southern Vietnam and neighboring southern Laos on behalf of the SANDERs nursery and discovered a new Paphiopedilum northwest of Attapu in southern Laos in 1904.
The English botanist MASTERS, at the request of SANDERS, described this new species as Paphiopedilum gratrixianum, after a good customer of the company, the Manchester industrialist GRATRIX.
After MICHOLITZ's first find, this species seemed to have disappeared. When a new Paphiopedilum from the same area in southern Laos was found decades later, it was mistaken for Paph. gratrixianum although in no way resembles the plants from the first description with its narrow, upright leaves with intense purple spots on the underside of the leaves. In subsequent years these plants were propagated in some nurseries by division and sold as Paph. gratrixianum.
Around the turn of the millennium, women's slippers from southern Laos/South Vietnam appeared in Europe, the leaves of which resembled the first description by MICHOLITZ. Also in America Eric CHRISTENSON 2004 has the real Paph. gratrixianum rediscovered in cultures.
Thai orchid grower Kobsuk KAENRATANA has Paph. gratrixianum at the natural site in southern Laos. He found it under exactly the site conditions described by MICHOLOTZ at an altitude of about 800 meters on steep cliffs in the immediate vicinity of waterfalls.
KAENRATANA also found the previously undescribed form of Paph. gratrixianum with the elongated and strongly spotted leaf undersides in southern Laos, but in an entirely different habitat growing on limestone rocks in open pine forests at an altitude of 1300 meters.
This by KAENRATANA "false" called Paph. gratrixianum is more common there and is regularly imported to Thailand and sold by local nurseries.
These plants were described by PERNER & KOOPOWITZ as Paphiopedilum gratrixianum var. christensonianum and then later described by Eric CHRISTENSON as an independent Paphiopedilum christensonianum.
Not all taxonomists accept CHRISTENSON's species description. So today we distinguish:
Paphiopedilum gratrixianum var. gratrixianum and Paphiopedilum gratrixianum var. christensonianum
Another variant of Paph. gratrixianum occurs in northern Vietnam and southern China before - Paph. gratrixianum var. daoense, that also as Paph. daoense has become known.
Regardless of these more taxonomic considerations, the stocks present in some nurseries are still classified as Paph. gratrixianum propagated and sold.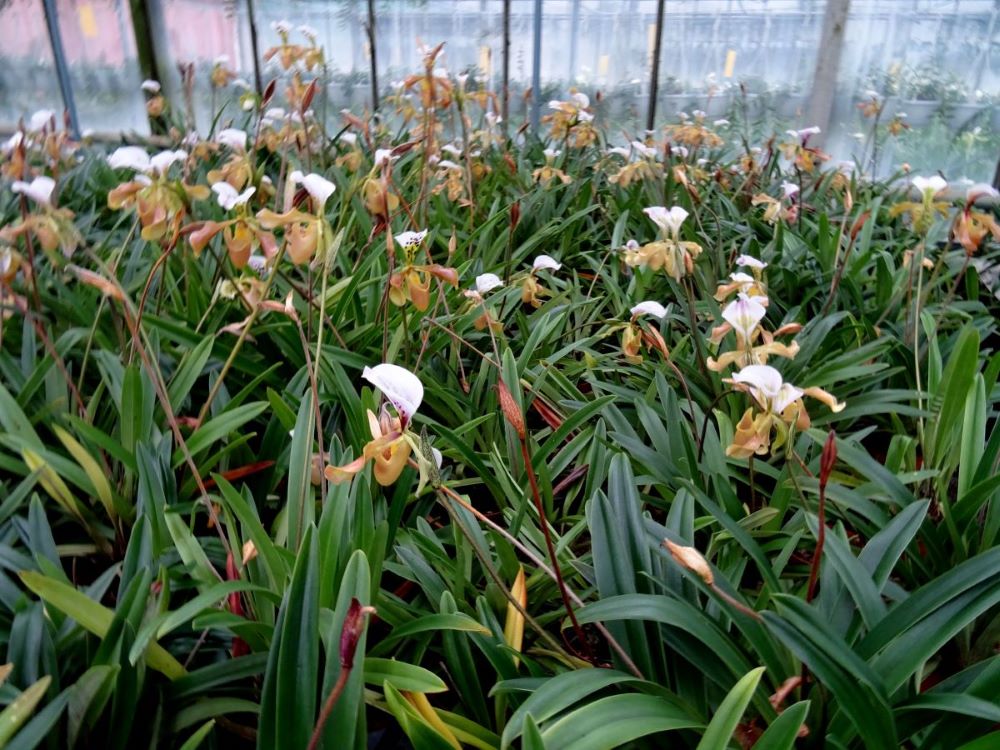 All lady's slippers mentioned in this post are presented under the "Species" section.