Paph. insigne var. Forstermannii vs Paph. x nitens
Paphiopedilum insigne was discovered by WALICH around 1819 in Sylhet Province, present-day Bangladesh. John LINDLEY described this species, which is extremely variable in terms of flowering, according to Wallich.
According to PRADHAN, this species has also been found in the state of Maghalaya in India. In the period from 1956 to 1974 more than 30,000 plants are said to have been collected and exported.
Paphiopedilum insigne is also said to grow in Nepal, but these locations are unconfirmed. Plants have recently been found in SW Yunnan.
In their natural habitat, the plants grow on limestone rocks at an altitude of 1200 - 1600 m and mostly only get the morning sun there. Some plants hang on steep cliffs at a height of 40-60 meters on river courses. In some areas they grow together with Paphiopedilum venustum. The climate is determined by the monsoon rains.
Paphiopedilum insigne seems to have gone a little out of fashion in recent years. The plant has therefore hardly been propagated.
Nevertheless, different color variants or varieties appear from time to time, but these have rarely been described in a valid manner. In England or the USA you occasionally get the clone "Harefield Hall".
In the early 19th century, so to speak, when Paphiopedilum insigne was booming, there were numerous varieties, none of which were recognized by BRAEM 1988, BRAEM & CHIRON 2003 or CRIBB 1998.
BRAEM & CHIRON cite a list by DESBOIS 1888 according to which there were 83 varieties, which, however, are each based on a description of an individual plant. These individual plants were then shown at orchid meetings or exhibitions, so their origin is unknown or questionable. BRAEM further writes that e.g. Mr. FRASER's Paphiopedilum insigne became Paphiopedilum insigne var. fraseri. Unfortunately, all of these original plants are now in orchid heaven.
A few of the numerous varieties should now be listed here, knowing full well that they are very probably no longer in cultivation.
Paphiopedilum insigne var. Chantinii (also var. puntatum violaceum) has the flag halfway white from above and is violet-dotted there, petals veined amber-yellow and shoe chestnut-brown, both very shiny.
Paphiopedilum insigne var. Maulei Flowers up to 12 cm in diameter, flag strongly curved forward, almost half white. Pepals with a wavy edge, light green-yellowish, veined light brown, shoe narrow long, light brown. (see figure)
var. albomarginatum flags yellow-green, not spotted, with broad white margins
var. aureum Light yellow flower, yellow-brown lip
var. cambridgeanum large flowers brightly colored, vanes almost white
var. clarkii like var. chantinii but spots smaller
var. Forstermannii translucent flag with brown hieroglyphic-like spots and white border, the upper dots are also on a white background and then more violet, petals waxy yellow, olive-brown mottled, greenish at the ends, shoe brown
var. grandiflorum flowers very large and bright
var. Horsmanianum Vane obtuse, conically elongated, white in the upper part, the lower part of the vane as well as the rest of the flower have the usual colors. The shoe is conspicuous because it has a nose in the middle and has low side parts.
var. illustre Color distinctly yellow with faint hazelnut-brown spots on falls and petals, vane white with crimson spots above
var. Kimballianum flowers very large, flag broadly edged with white, dotted with dark purple, shoe dark.
var. longisepalum Small in stature, flowers are small with a narrow, egg-shaped, long flag, dull in colour.
var. Macfarlanei flowers pale yellow, flag broadly edged with white, without spots
var. maculatum very handsome, flag resembles var, Maulei
var. maximum is said to have been the most beautiful of all varieties, very large flag, wavy, clearly green striped on a green background with brown dots, with a large white area above, spotted with violet, wide petals, tinted olive green and clearly mottled with brown, large yellow tinted Shoe with tan tint
var. Moensi ochre-yellow flag, black dots with a pure white border, broad petals, wavy, yellow, veined and netted with brown, shoe yellow, marbled with brown, very bright.
var. Mooreanum in Williams from 1894 there is a very detailed description of the plant, we want to limit ourselves here to the description of the flowers. Sepals and petals form a distinct cross. Banner faint yellowish green with crimson, brown spots, petals greenish yellow, faint purple-brown along veins, with two rows of spots along margins. The shoe has two blunt, protruding ears and is greenish-yellow, lightly coated with brown, shiny.
var. rubromarginatum flag bordered with brown-red
var. Wallacei coloration like var. punctatum violaceum but with less white in the banner and the dots are reddish-black

Many varieties are also mentioned here: http://www.orchidspecies.com/paphinsigne.htm
In addition, there are a variety of hybrids with Paphiopedilum insigne and its color variants. The first was made by Ashbourton in 1871 with Paphiopedilum barbatum.
In the so-called Scrabbooks (sketchbooks) by John Day Paphiopedilum insigne is found several times in different forms. The variety shown there is Paphiopedilum insigne var. Maulei, he bought the plant from William Bull and made the drawing on December 27, 1870.
Paph. Insigne var. Forstermannii
In the mid-1990s I was able to find two plants called Paph. insigne var. Forstermannii. These plants have been cultivated here in the orchid greenhouses for decades and have been shared again and again. In this botanical collection, great importance is attached to the correct names of the individual plants.
The following year both plants flowered and I was able to take the following photos of these plants.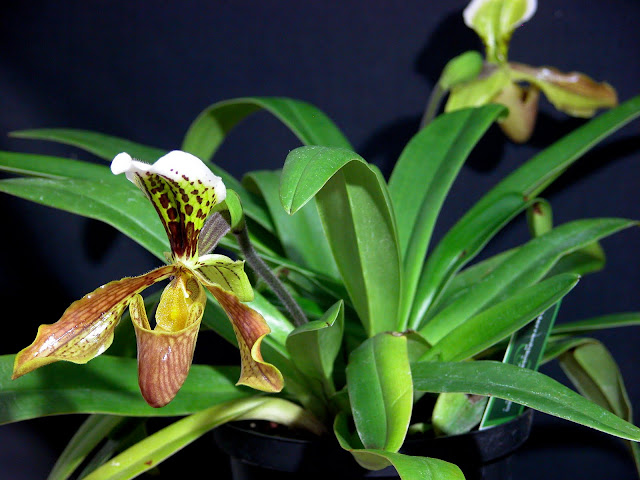 Paph. x nites
In 2021 I was able to buy two plants from the orchid nursery Wichmann in Celle, which as a natural hybrid Paph. x nitens (P. insigne x P. villosum). These plants have also been in the nursery stock for decades and are also regularly propagated by division.
Comparing Paph.
x nitens with the pictures from Paph.
insigne var. Forstermannii a high level of agreement could be determined
Unfortunately, it could no longer be determined when and from where these lady's slippers came into the two orchid stocks. Since plants have always been exchanged between the botanical garden and the orchid nursery, it is quite possible that the original plants come from the same source.
In 2011 plants from Yunnan (China) were identified as Paph. x nitens: http://www.orchidspecies.com/paphnitens.htm
Finally, there is also a horticulturally produced hybrid called Paph. Nites. The descendants often deviate from the pictures shown here.
http://www.slipperorchids.info/paphprimaries/index.html - see hybrids of the subgenus Paphiopedilum
Paph. Nitens = insigne x villosum
Paph. Monsieur de Curte = boxallii x insigne
Without more precise information about the actual origin of the individual plants, a reliable identification of the flowering plants makes it almost impossible.